25 YEARS OF POMELO: A BRIEF RETROSPECTIVE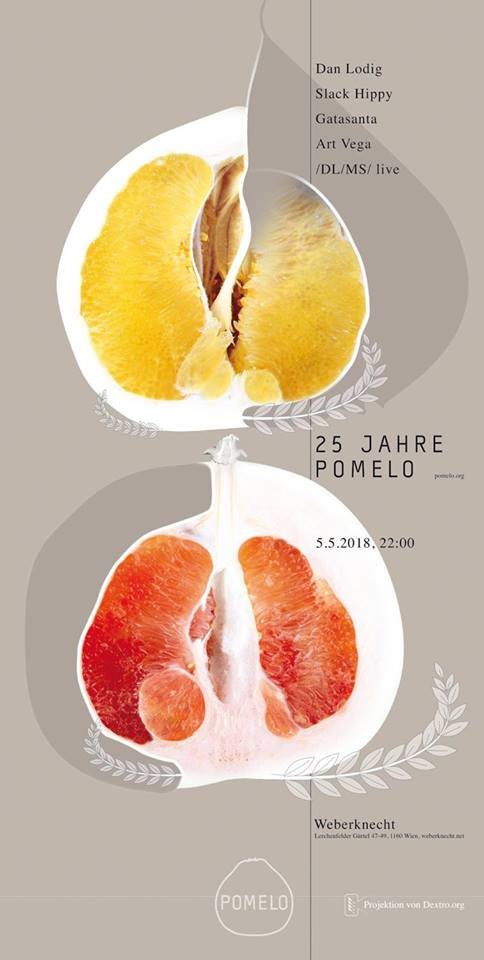 In joining the celebrations for this important milestone, we pay tribute to one of Vienna's most distinctive electronic music labels. The anniversary party – Pomelo – 25 Jahre – took place on 5.5.2018 at Weberknecht in Vienna, Austria (the same place where the first Pomelo party was held in 1993), with the likes of Electric Indigo, DL/MS/, Slack Hippy, Art Vega and Gatasanta.
POMELO WAS FOUNDED BY DAN LODIG AND ART VEGA, WITH THE EVERSTANDING AFFILIATION OF VISUAL ARTIST DEXTRO.
If during the Wende Berlin was open and welcoming towards Techno, the "sound of the future", Vienna ( the city of music, but classical music) was, conversely, very conservative and the passionate members of the local raving/techno community had to work hard to find the spaces in order to express themselves. Daniel Lodig at the beginning of the nineties quickly became one of the most booked DJs of the city, and co-organizer of some the best techno parties, together with other big names here, like Georg Lauteren aka DJ Glow (afterward founder of the seminal electro label TRUST) and Pure (according to many, the one who brought the Berlin techno fever to Vienna).
You can read more about it here and here (German only).
Once Pomelo as a party series had been established, the label came to life as a natural consequence and , not unlike many other labels back then, it started with the idea of uniting friends and colleagues from the scene in Vienna and to strengthen the bonds with some of the guests of the parties that Lodig had co-organised, or played at. The fact that, in 1994, the first release is a Compilation makes therefore perfect sense: it features local heroes like Erdem Tunakan and Patrick Pulsinger as iO (also founders of another important Viennese label, Cheap Records), and Germans Richard Bartz aka Richie and DJ Hell (back then already well-known and later on founder of the iconic International Deejay Gigolos imprint).
The same spirit went on for the next few releases: with the exception of the 2nd release (singlehanded by Bartz under his Horn alias), until 2007 Pomelo showcases more or less strictly Viennese talents, some of whom had already appeared on the very first compilation. We have names like Pin-ups In Exile and The Trumps (both Gerhard Potuznik's aliases, one of the few Viennese producers appearing on almost all most important Viennese electronic labels), Satanic Soul aka Alexander Müller (also known as Elin), Punk Anderson aka Christopher Just. In 1999 there's a kind of shift in the musical direction. This might have close links with Lodig's friendship with Dj Glow who, as mentioned before, in 1998 had founded TRUST, a label very much focused on the Electro sound. Pomelo embraced this new aesthetic with its ninth release, Muros Transparentes ( a Spanish name, maybe a hint to Lodig 's decennial transfer to Barcelona, in 2000), in English "transparent walls", which sees Glow debuting on the label.
From here on, Pomelo becomes one of the European reference imprints for all electro heads but at the same time it is able to maintain a certain degree of sonic variety, and it does so by continuing to represent the Austrian/Viennese scene as well, featuring different talents at each new release. After Muros Transparentes, the next string of quality releases showcases the likes of Epy ( aka Klaus Voltmer, Nestor Pridun and Stefan Holek ), Hi-Lo ( aka Martin Retschitzegger and Michael Peter, founders of Central and who also appeared on Robert Hood's M-Plant), a return of Tunakan and Pulsinger as The Private Lightning Six (on team with Gerhard Potuznik, Herbert Gollini and Florian Sokol) with additional remixes by Dave Tarrida, John Tejada and Roberto Rodrigo (Lodig's Barcelona connections), Spesimen (American electro producer hailing from Ann Arbor, just outside Detroit, and founder of Infocalypse Recordings ), Microthol (aka Philipp Haffner alias Soulglo and Constantin Zeileissen, two of Vienna's finests) and another return, this time by Christopher Just, with remixes by Microthol themselves and Lodig + Art Vega as The Love Project (only appearance of the alias so far).
In 2007, after a couple years hiatus, Pomelo is back with another VA, marking another (subtle but defining) turning point in its path. The 13 Years release sees the debut of prolific German producer Alex Cortex aka Alexander Neumann (a future label's mainstay) and a prestigious feature by Reade Truth, one of New York Techno's veterans. From this point on, the label has established itself, starts to be more international (especially more German) and to bet even more on niche producers. After two releases by Cortex , and a split between founder Dan Lodig and Dutch legend Orlando Voorn on Minimalsoul, 2009 sees a remarkable one-off debut by Scottish producer Steven Patton aka Soundex Phonetic.
https://youtu.be/yihFc3LUIlE
After such a "spiritual" release, in 2013 Lodig and Vega decide to continue a sonic widening path. After a well-rounded techno double 12" by Bad Cop Bad Cop (with an additional wax of selected remixes by the likes of Tobias, Kemetrix, Group Niob and Brendon Moeller), the label is happy to welcome the acid mastery of Johannes Auvinen aka Tin Man, who had previously moved to Vienna: The project's called Underdog, it's divided in two parts and sees Auvinen smartly integrating himself into the label with five overall tracks, merging acid house and techno amidst all his signature flair.
The last four releases – except for a 12" by Group Niob aka Dibek and Gerhard Potuznik – have seen founder Dan Lodig step in on a consistent level, presenting his new project /DL/MS/ alongside Dibek himself. The two have released 3 records on pomelo (one together with Altroy), both as DL/MS/ and as simply Lodig & Dibek, as well as appearing on TRUST and Frustrated Funk. The upcoming release Jupiter EP, introduces another Vienna based talent aka Serbian producer and turntablist Nino Sebelic. You can listen to one of the tracks from the 12", Church Of Tasmania in this recent mix by Dave Clarke.