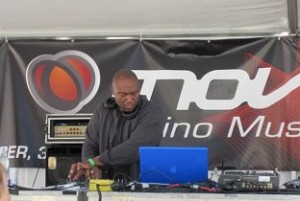 Sean Deason is part of the "third wave" of Techno producers from Detroit. His career in electronic music has taken him to many parts of the world where his skills as a techno DJ are in very high demand. He has DJ'ed in dance clubs in Hungary, Switzerland, Germany, England and throughout much of North America. At home he has DJ'ed in every major club in the Detroit Metro area, and in 2001 held a Saturday night residency at Clutch Cargo's (Pontiac, Michigan), one of the largest and longest running clubs in the United States.
His music career began when he met the early Plus 8 Recording artists: Richie Hawtin, Kenny Larkin and Dan Bell. These world class techno artists introduced him to the recording studio and helped to develop, inspire and influence his musical experimentation. He later went on to produce records for Kelly Hand's Acacia Records and Alan Oldham's Generator Records before establishing Matrix Records in 1993. Sean's Matrix label gained worldwide recognition not only for the numerous releases by Mr. Deason himself, but also as a launching pad for the careers of many highly regarded and well known names in the current techno arena including Claude Young, Stewart Walker, Convextion, and Morgan Geist.
Sean Deason made his debut live performance at the first annual Detroit Electronic Music Festival in 2000, and is featured in the documentary film "The Drive Home: The story of the Detroit Electronic Music Festival" from Pilot Pictures. Sean Deason's most recent album "Allegory And Metaphor" was nominated for two awards at the Annual Detroit Music Awards in 2001, "Best Electronic Album" and "Best Techno Artist", and was listed by numerous magazines as one of the best electronic albums for the year.
Sean Deason's latest projects include composing electronic music for video games, television commercials, CD-ROMs, Internet websites, and direct-to-video film titles. His work has been featured on MTV's "The Real World", "Celebrities Undercovered", the nationally syndicated television show "Entertainment Tonight", a BBC "MotorBike" program. He has been featured on RollingStone.com and showcased on sportswear manufacturer Nike's web site,Nike.com. His clients include Ford Motor Company, Renaissance Creative Group, Mobium Creative Group, Intuit Solar and Digital Detroit.